Administrator
Staff member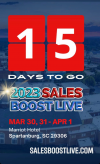 ​
Check out our website
: Register for this epic training, see the schedule and speaker line up.
Contact Patrick Clark On Facebook
15 DAYS UNTIL THE BIG EVENT IN SPARTANBURG!
If you haven't signed up already the link is below-- I can't stress enough how useful this event will be for you and your team. We have a great line up of speakers, onsite quotes and countless tools for you!
2023 Sales Boost Live March 30,31-April 1
Marriot Hotel Spartanburg, SC 29306
​