Administrator
Staff member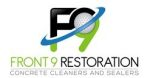 Concrete Sealers and Cleaners​
Featuring All-Star Products: Amazing Results Strength, Power, Results
F9 BARC -

The best concrete rust remover and orange battery stain remover

F9 Tire Mark Remover (TMR) -

Tire Marks, Golf Course Machinery, Tractor Trailer Rigs, Heavy Equipment, Houses, Concrete, Masonry and Vinyl Surfaces.

F9 ReKrete -

F9 ReKrete is a unique product that allows for easy removal of petroleum stains without the use of water. The product comes in the form of a dry, finely granulized powder, integrated with active cleaning agents and chemically engineered bio-organics designed to effectively breakdown hydrocarbon petroleum matter without the use of water as a carrier, catalyst, or neutralizing agent. There is no need for any application of water before, during, or after the cleaning process.
Last edited: