Administrator
Staff member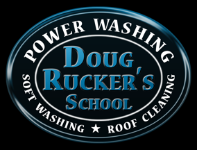 Events​
Dates:
April 10th @ 8am April 11th @ 1pm
May 8 @ 8:00 am - May 9 @ 1:00 pm
June 12 @ 8:00 am - June 13 @ 1:00 pm
July 10 @ 8:00 am - July 11 @ 1:00 pm
August 14 @ 8:00 am - August 15 @ 1:00 pm
The Pressure Cleaning and Roof Cleaning School is 1 1/2 days of "Hands On†and Class Room training for those that would like to learn or start a residential pressure washing and or roof cleaning business. The School is located in the Houston Texas area and is owned and operated by Doug Rucker owner of Clean and Green Solutions, a Kingwood Texas based Pressure Washing and Roof Cleaning Company.

For Details:
Contact Doug Rucker by Email: Pressurecleaningschool@gmail.com
Doug Rucker

Doug Rucker is the current former President of the United Association of Mobile Contract Cleaners. He is the Owner of Clean and Green Solutions www.cleanandgreensolutions.com, as well as several subsidiaries in the Houston, Texas market. In recent years, Doug has focused his attention on refining his sales techniques, resulting in great growth with his companies. He has incorporated technology into his daily operations, expanded his webpresence in the region, and brought old school sales technics into one dynamic sales machine. Though Doug downplays his accomplishments by saying "NEVER BE CLOSING,†his clients are elite consumers with expansive purchase power. Connecting with and serving residences in some of Houston's finest, upscale neighborhoods, he has established the "$8000 HOUSE WASH.†One of the things he emphasizes in his nationwide pressure cleaning school is: "Never set your sights too low and stop pushing!†While he believes that desperate service contractors can be spotted a mile away, Doug's companies are in high demand, and his brand is strong and continually growing in the Houston area.
These events have a fee associated with them​